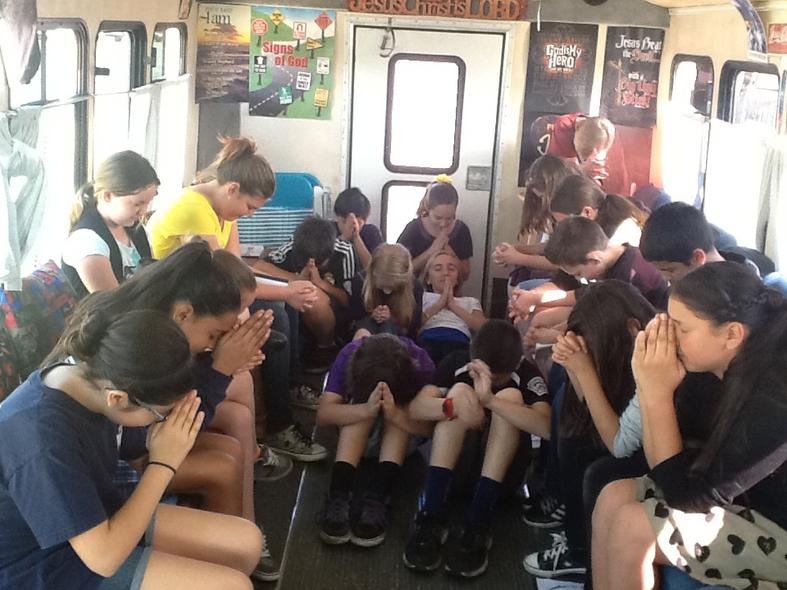 It's not only sad — it's frightening and angering that the California State Senate has said giving a little more religious Released Time Education away from the iron-fisted grip of the public schools upon children's minds, hearts, bodies, and souls… is a BADDDDDD thing.
The vote Monday in the 40-member California State Senate was 15 yes, 18 no on SB 1457 (21 votes are needed to pass), which would allow school boards to expand the hours of Released Time Education and give some school credit hours to attending students.
One of the most evil things that happened during the debate was that pro-perversity Democrats labeled religious education as bad:
Senate Bill 1457, which was opposed by the state's powerful teachers unions, faced strong objections from Democrats who argued that it would undermine the secular foundation of public education and violate the Constitution's "establishment clause" separating church and state. Several members noted that the state would have no influence over the content of the religious instruction, raising the possibility that students might receive credit for anti-gay or white supremacist teachings. Sacramento Bee story
Another evil thing was the massively wealthy California teachers union lobbied hard against the bill, even pulling a co-author, Democrat Jim Beall, into the abstain column. Can you say pimps and prostitutes? If the 7 senators that purposefully abstained voted yes, the bill would have passed!
What's your reaction when the majority of state senators are against children learning to love their neighbor as themselves and learning stealing is wrong and that God is watching them? With this, you know that the majority of these legislators are evil, corrupt, anti-children, anti-God, and need to be replaced.
Fortunately, this is an election year, and half of these state senate districts are up for grabs (so are all 80 state assembly districts and all 53 California congressional districts).
So please, response to this attack upon the most sublime, basic, traditional religious freedom bill imaginable for children:
1. REPORT: Let other people know who voted for or against moral standards for children. See the 15-18 Senate floor vote and Democrat floor analysis
2. CALL SACRAMENTO: Since SB 1457 was approved for "reconsideration" — meaning the bill could return for a second vote within a week — please call the 7 swing votes to urge them:"Vote yes on SB 1457. Children need to be taught do not steal and treat others as you ought to be treated. This bill is optional for school districts. Please do what's right and vote yes."
Benjamin Allen — Democrat
Call especially if you live in the Hollywood/Beverly Hills/Santa Monica/Redondo Beach/Palos Verdes area of Los Angeles County) map
(916) 651-4026 Capitol / (310) 318-6994 district
Jim Beall (pronounced "Bell") — Democrat
Call especially if you live in Santa Clara County map
(916) 651-4015 Capitol / (408) 558-1295 district
Robert Hertzberg — Democrat
Call especially if you live in or near the sprawling San Fernando Valley in Los Angeles map
(916) 651-4018 Capitol / (818) 901-5588 district
Ben Hueso — Democrat
Call especially if you live in the Palm Springs area, the south Riverside County area, Imperial County, and the southern part of San Diego County map
(916) 651-4040 Capitol / (619) 409-7690 district / (760) 335-3442 district
Connie Leyva — Democrat
Call especially if you live in or near Pomona, Bloomington, Chino, Colton, Fontana, Grand Terrace, Montclair, Muscoy, Ontario, Rialto, San Bernardino map
(916) 651-4020 Capitol / (909) 591-7016 district / (909) 888-5360 district
Richard Pan — Democrat
Call especially if you live in Sacramento, West Sacramento, Arden-Arcade, Elk Grove, Florin, Fruitridge Pocket, La Riviera, Lemon Hill, McClellan Park, North Highlands, Parkway, Rosemont, Vineyard map
(916) 651-4006 Capitol / (916) 262-2904 district / (916) 651-1529 district
Sharon Runner (may have been absent) — Republican
Call especially if you live in Lancaster, Palmdale, Santa Clarita, Adelanto, Victorville, Apple Valley, Hesperia, Castaic Lake, Pyramid Lake map
(916) 651-4021 Capitol / (661) 729-6232 district / (760) 843-8414 district / (661) 286-1471 district
3. HELP ELECT PRO-FAMILY LEGISLATORS: Because you have an opportunity to replace frustration with satisfaction, evil with good, inaction with love, and despair with hope, please visit and share the SaveCalifornia.com Election Center so that you can make your own voter guide to share with your friends via email, Facebook, and Twitter. Be creative and aggressive to multiply good votes — this week!
Woe to those who call evil good, and good evil;
Who put darkness for light, and light for darkness;
Who put bitter for sweet, and sweet for bitter!
Isaiah 5:20
But whoever causes one of these little ones who believe in Me to stumble,
it would be better for him if a millstone were hung around his neck,
and he were thrown into the sea.
Jesus Christ in Mark 9:42