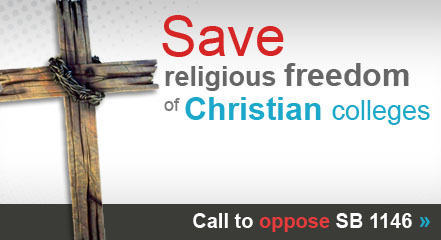 STOP — THIS ALERT HAS EXPIRED. SEE THE LATEST HERE
If you support protective boundaries between what's secular and sacred, and don't want the private policies of Christian colleges dictated by California state government, please take quick action. SaveCalifornia.com makes it simple for you to leave short voicemail messages with key state assemblymembers (SCROLL DOWN FOR PHONE NUMBERS).
Please realize the latest amendments to SB 1146 still put religious colleges and universities at risk. While the latest amendments remove the crippling lawsuit provision, the bill still sets a very bad precedent by permitting the State to violate time-honored boundaries between secular and sacred.
The amended SB 1146 will force and regulate new public disclosures for religious-based colleges. It would require religious-format colleges to post new disclosures all over campus, to submit to State regulators on campus, and then report to the State when anyone is expelled for violating the college's clearly-communicated biblical standards and moral code (which will invite a full SB 1146 back all over again).
Bottom line, if the amended SB 1146 becomes law, you can expect the harmful lawsuit portion of the bill to return next year, and after that, the even worse bill banning Cal Grants to students at religious colleges.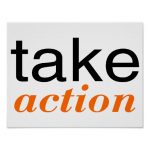 THE NEXT VOTE IS THURSDAY, AUGUST 11. EXPRESS YOUR CONCERN AND ANGER RIGHT NOW, FROM WEDNESDAY 6PM TO THURSDAY 8AM.
When you call, leave this message: "Oppose SB 1146 as amended. Protect 'separation of Church and State.' Protect the freedom of religious institutions to decide their own policies. Support true diversity — oppose SB 1146."
Before you call, please heed these important instructions: If you live in their districts, say that you live in their district. If you don't live a members' district, call between 6pm and 8am to leave voicemail messages and DO NOT PROVIDE any identifiers (most offices ignore you if they know you're outside their district).
CALL THE DECIDING VOTES ON THE ASSEMBLY APPROPRIATIONS COMMITTEE

These 8 members of the Assembly Appropriations Committee will vote the morning of Thursday, August 11 on SB 1146, which is currently on the "suspense file."

Want to do more? Share this alert with others and also leave voicemails for all the members of the Assembly Appropriations Committee, which will vote August 11 on SB 1146.
Congress shall make no law respecting an establishment of religion, or prohibiting the free exercise thereof… 
First Amendment to the Constitution of the United States of America