Celebrate this HUGE pro-life win for children all over the world!
In one of his first official acts, President Donald Trump has ordered that NO United States tax dollars can fund overseas abortions.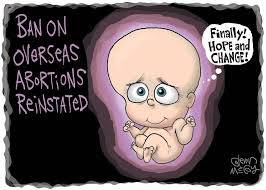 Specifically, Trump's January 23 executive order restores what is known as the "Mexico City Policy," which prohibits all federal funding for foreign nongovernmental organizations (NGOs) that promote or perform abortion as a method of family planning (except in cases of rape, incest, and life of the mother). Understand — Congress must act first in order to halt federal tax dollars from funding abortionists within U.S. borders.
PLEASE RESPOND RIGHT NOW: Brand-new U.S. President Donald Trump thrives on praise and honor. So thank him right now. Leave this strategic message: "Thank you, President Trump, for defunding overseas abortions! Now please nominate pro-life, constitutional judges!"
White House comment line 202-456-1111
White House switchboard 202-456-1414
White House contact form
Deliver those who are drawn toward death,
And hold back those stumbling to the slaughter.
Proverbs 24:11