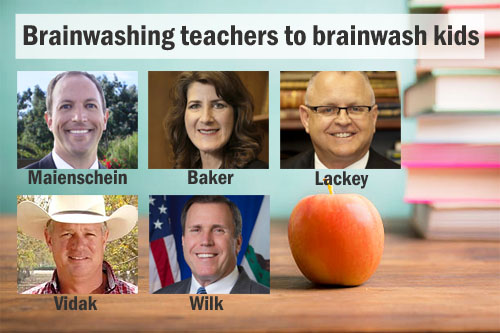 SaveCalifornia.com provides this solely for educational purposes
and does not support or oppose candidates for public office.
CBN News: 'Anti-Family' Republicans Join Democrats in California to Pass Latest Sexual Indoctrination Bill
With Republican officeholders like this, who needs Democrat politicians to vote for sexual indoctrination bills?
It's a fact that the homosexual and transsexual  agenda is unnatural, unhealthy, unbiblical, and tyrannical. But that didn't stop 5 Democrats and 2 Republicans in a California State Senate committee from turning off their brains and voting for what will probably be California's 11th sexual indoctrination law harming boys and girls who are enrolled in the government-controlled schools.
On June 20, the California Senate Education Committee voted UNANIMOUSLY to require all California government-school teachers to be brainwashed (via in-service training) "for the support of lesbian, gay, bisexual, transgender, queer, and questioning (LGBTQ) pupils as well as strategies to increase support for LGBTQ pupils."
Joining 5 anti-family Democrats in voting yes for this non-academic, sexual indoctrination bill, designed to recruit and train children to be homosexual and transsexual activists, were two "Republicans": ANDY VIDAK of Fresno, Kern, Kings and Tulare counties (https://vidak.cssrc.us/content/district) and SCOTT WILK of the Antelope, Santa Clarita, and Victor Valleys (https://wilk.cssrc.us/21st-senate-district)
See the vote on AB 2153 (https://bit.ly/2ywhNtc). State senators voting YES in committee were 5 Democrats — Ben Allen, Cathleen Galgiani, Connie Leyva, Mike McGuire, Richard Pan — along with the two Republicans, Andy Vidak and Scott Wilk
AB 2153 is authored by Democrat Tony Thurmond, who's running for California Superintendent of Public Instruction
See how AB 2153 harms children: https://bit.ly/2lnxQjw
Skim SaveCalifornia.com's "The Science of the Sexes"
Do these elected representatives deserve your support? Only you can decide. So far, 5 Republican state legislators in California have joined the anti-family Democrats in voting FOR AB 2153: Andy Vidak of Visalia, Scott Wilk of Santa Clarita, (and in the California State Assembly) Catharine Baker of Contra Costa County, Tom Lackey of Palmdale, and Brian Maienschein of north San Diego.