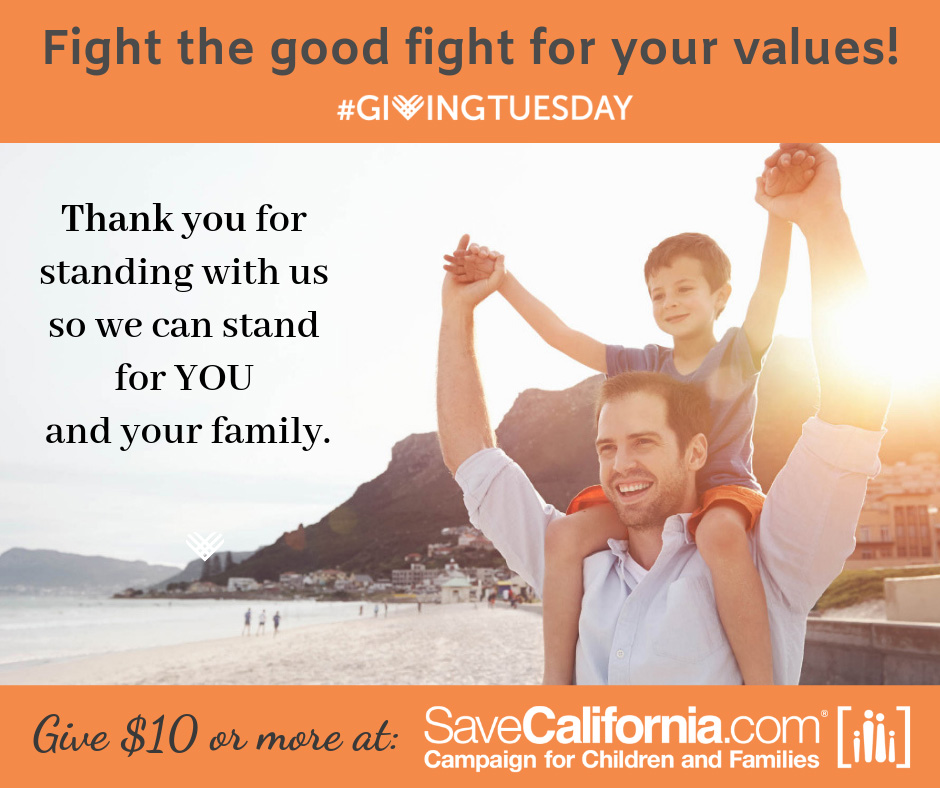 If you hunger and thirst for moral, family values in California, your tried-and-true standards are needed today.
Because if you know that…
• Religious freedom is your American birthright
• People are more important than trees
• Your money is yours, not the government's
• Children do best with a married father and mother
• Marriage is still only for a man and a woman
…then we need you on our SaveCalifornia.com team!
Will you stand with us and join our fight against the Left with a gift of $10 or more? Please give generously to bring truth and moral standards to California's families and society, which is in desperate need of your good values.
Here's why some of our supporters give to SaveCalifornia.com:
Thank you and the LORD bless you and keep you — and praying for you that He would mightily use you and us in His work.
— Nancy in Bakersfield
I appreciate all of your tireless work for our state … Thank you for ALL you do to promote God's word and to show people solutions to these so called leaders hell bent on destroying the moral compass and compassion of normal human souls.
— Maureen in Modesto
Keep up your good pro-life, pro-family work.
— Anonymous
I know that you continue to fight the righteous fight as our nation continues to drift further from Yahweh and His instructions/commands. Keep up the good fight in the future.
— Stan in Roseville
Thank you for your support of the TRUTH and Biblical Values … May The Lord repay your efforts SAVECALIFORNIA.COM.
— Mylinda in Modesto
It's for you and your family that SaveCalifornia.com has been working, leading, and fighting since 1999. And today on Giving Tuesday (and any other day you see this), it would be a real privilege to have your support. You can donate securely here.
When you give to SaveCalifornia.com, you're doing good to stand for truth in the face of evil. You're shining your light to overcome wicked forces that are ruining children, squashing religious freedom, and silencing our voices.
Please support SaveCalifornia.com today, so that freedom has a greater chance.
Donate to SaveCalifornia.com
Your gift is confidential and tax-deductible
Thank you in advance!
Be sober, be vigilant; because your adversary the devil walks about like a roaring lion,
seeking whom he may devour. Resist him, steadfast in the faith, knowing that
the same sufferings are experienced by your brotherhood in the world.
1 Peter 5:8-9