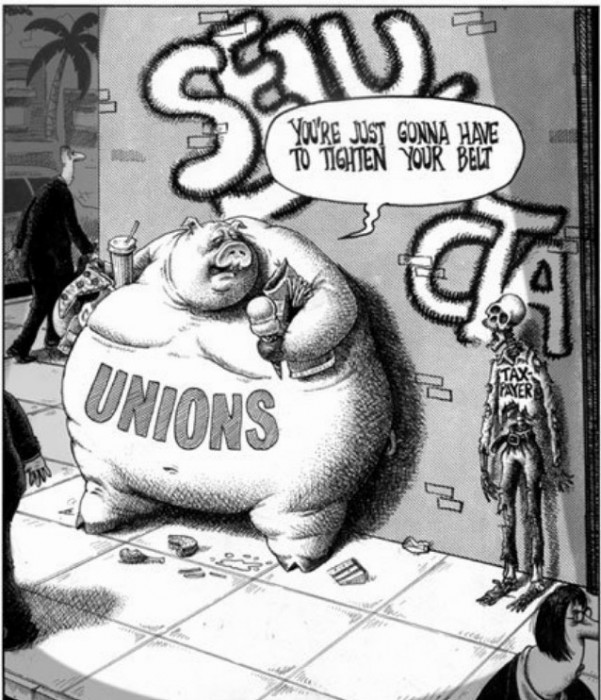 If you've ever wondered what's ruining California, stop feeding the beast.
Do you know why people are moving out of California? Do you know what's causing all the big problems? Democrat Party politicians have been in control of the California Legislature for more than sixty years, and in control of the governor's office for more than 12 years now.

Don't believe it? Democrat Party legislators have controlled the 40-member State Senate since 1957 (except for 1969-1970) and the 80-member State Assembly since 1959 (except for 1969-1970 and, for all practical purposes, in 1996).

What's keeping these unloving, problem-causing, pain-increasing Democrats in power? Multi-millions in campaign spending by unions – both government and private unions – that's what's fueling Democrat victories year after year.
As reported in 2021 after Gavin Newsom "won" his recall election, "Organized labor donated at least $25.7 million — or more than one-third of the total the governor raised to keep his job. Unions, of course, have deep ties to the Democratic Party and a stake in nearly every aspect of state government."
But fortunately, the First Amendment still stands, and there are U.S. Supreme Court rulings in favor of every union members who wants to stop paying for bad candidates and bad bills.
In the 1988 Beck decision, the U.S. Supreme Court ruled all union members can opt out of paying for a union's partisan political activities.

And in the 2018 Janus decision, the U.S. Supreme Court ruled that, under the First Amendment, government employees are entitled to work without paying union dues or agency fees.
You have strong, fundamental free-speech rights to not be coerced into supporting union politics. And your rights prevail despite the deceitful, domestic terrorism of union bosses trying to circumvent Janus.
Now that you've unpeeled the onion and found the rotten core, will you stop "feeding" and funding the beast?
See how to keep your job and resign from the union:
Sample union resignation letter for private sector employees
Sample union resignation letter
How to resign your union membership in California
In 2011, Andy Stern, former president of the Services Employees International Union (SEIU), admitted that unions have Marxist roots. "In the '30s," he said, "people didn't want us to exist. We had to do sit-down strikes . . . we had socialist and communist tendencies. We grew up, to speak in Marxist terms, in a world with a lot more class struggle." Modern Marxists, for their part, feel a similar warmth towards unions—they say that unions are useful to their goals, but not radical enough.
The Real History of Unions: Violent Communist Agitation, March 28, 2022