SaveCalifornia.com provides this solely for educational purposes
and does not support or oppose candidates for public office.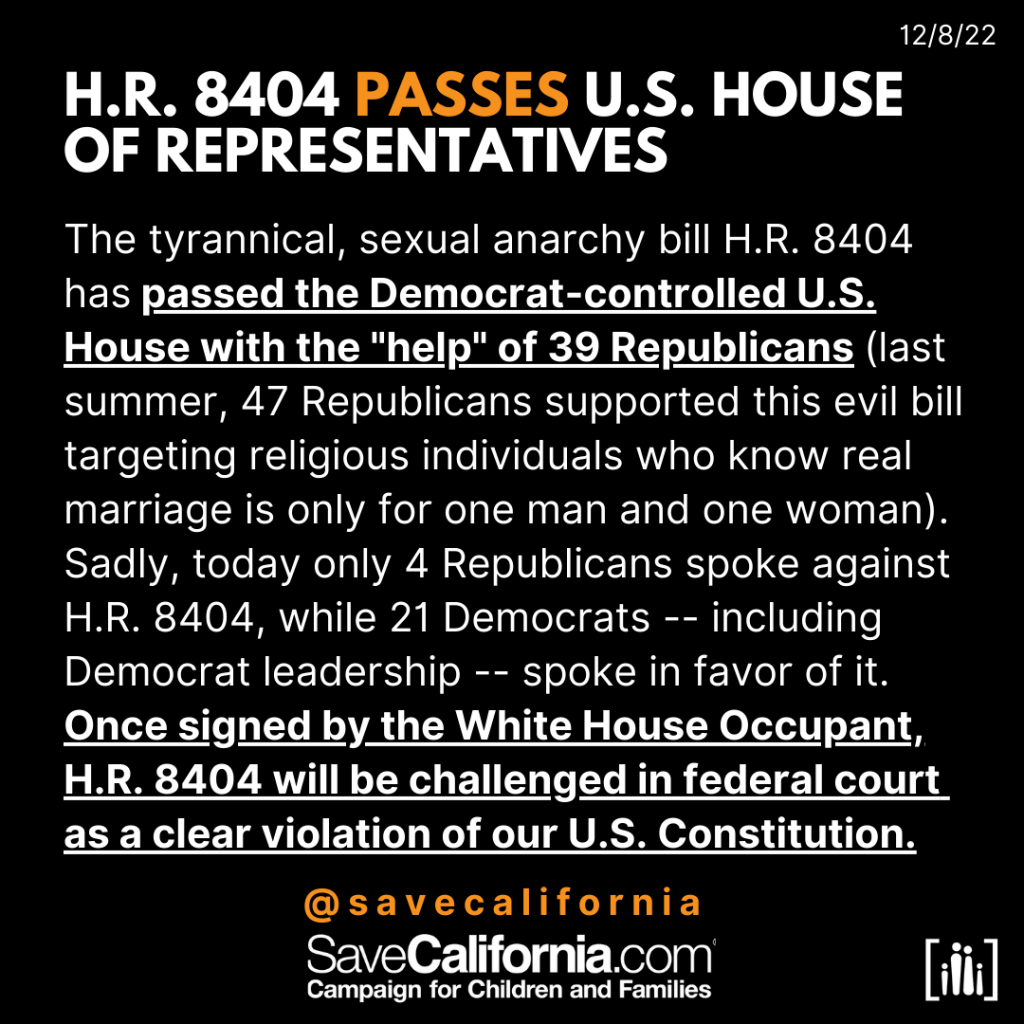 If, like me, you're grieving about the Democrats' and RINOs' attack upon God's beautiful design of marriage and family, there's hope that H.R. 8404 and more will be overturned.
Thank you if you called Republican representatives in response to SaveCalifornia.com's alerts. We had to try, because Republicans were receiving pro-family "heat" in other states. And indeed, despite voting anti-family this summer when H.R. 8404 first passed the U.S. House of Representatives, several of these Republicans did NOT vote for it today.
First, the bad news: Among California's 11 Republican U.S. representatives, 5 are either secret sexual anarchists or they're so afraid of "LGBTQIA+" activists, they've joined them.
Demonstrating they are truly tone-deaf to pro-family citizens' telephone calls, voting for the tyrannical, sexual anarchy bill H.R. 8404 TWICE (both December 8 and July 19) are "Republicans" Darrell Issa, Jay Obernolte, Ken Calvert, Mike Garcia, and David Valadao.
Like the New Communist Democrats, these "Republicans" are now confirmed domestic enemies of real marriage, children's innocence, state's rights, and constitutional religious freedom. They don't care that H.R. 8404 forces "child bride" and "transgender" marriages upon all 50 states. See the Dec. 8, 2022 roll-call vote
But now, the good news: You can bet this will be challenged and go to the U.S. Supreme Court, where there's actually a good chance to overturn H.R. 8404 because it violates 3 things the Constitution protects: religious freedom, states' rights, and marriage jurisdiction.
As the constitutional attorneys at Liberty Counsel explain: "Although the House passed the 'Respect for Marriage Act' with a 258-169 vote that included 39 House Republicans, this action is a strategic blunder by advocates of same-sex marriage. Rather than a victory, the 'Respect for Marriage Act' will make easier the argument to overturn the U.S. Supreme Court's 2015 5-4 opinion in Obergefell v. Hodges regarding same-sex marriage."
Patience is needed as plaintiffs are either found or volunteer. As a case or cases wind through the federal courts, perseverance is especially required by religious small business owners. If you have a religious faith and are in the wedding business, please contact Liberty Counsel to explore joining a pro-bono lawsuit.
Bottom line, the House Democrats are against what's right in God's sight, the House Republicans hardly fought to protect us, yet the written Constitution still stands, and there might be 5 or even 6 Supreme Court justices willing to defend it. So, please stay in the battle!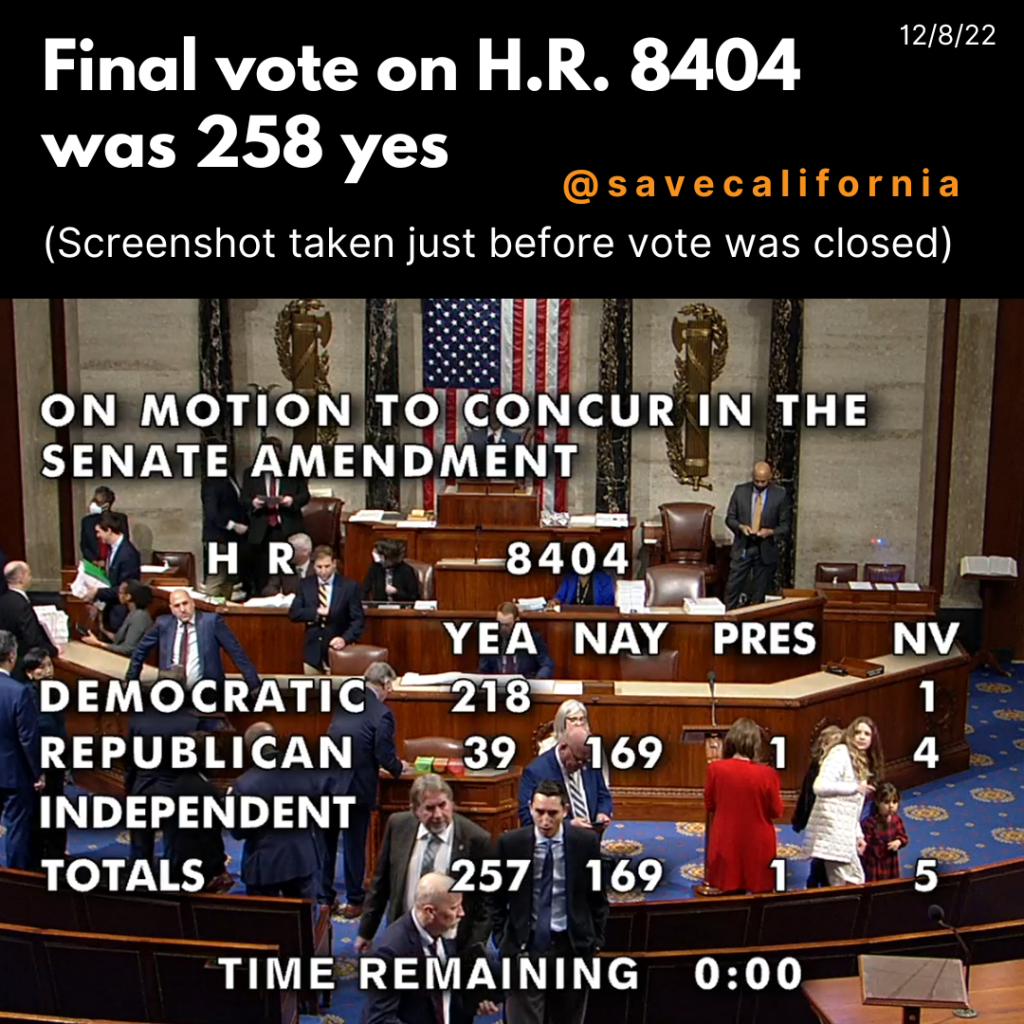 "Put simply, no adult has a right to someone else's child or another adult's reproductive capacity. If they did, it would create obligations on the part of individuals and governments to supply sperm, eggs, and wombs to hopeful parents. But every child has a right to love and support from the mother and father who created him. … The prevailing wisdom today — rarely stated in explicit terms — is that children should be willing to sacrifice for our desires. This is exactly what happens when a child is deprived of maternal or paternal love so that adults can build the families of their dreams. Our national priority should be promoting a culture where men and women commit to one another and the families they build together, not creating fatherless (or motherless) children for the sake of adult fulfillment."
Misnamed 'Respect For Marriage Act' Doesn't Just Gut Religious Liberties, It Puts Selfish Adult Wants Over Kids' Needs, The Federalist, Dec. 8, 2022