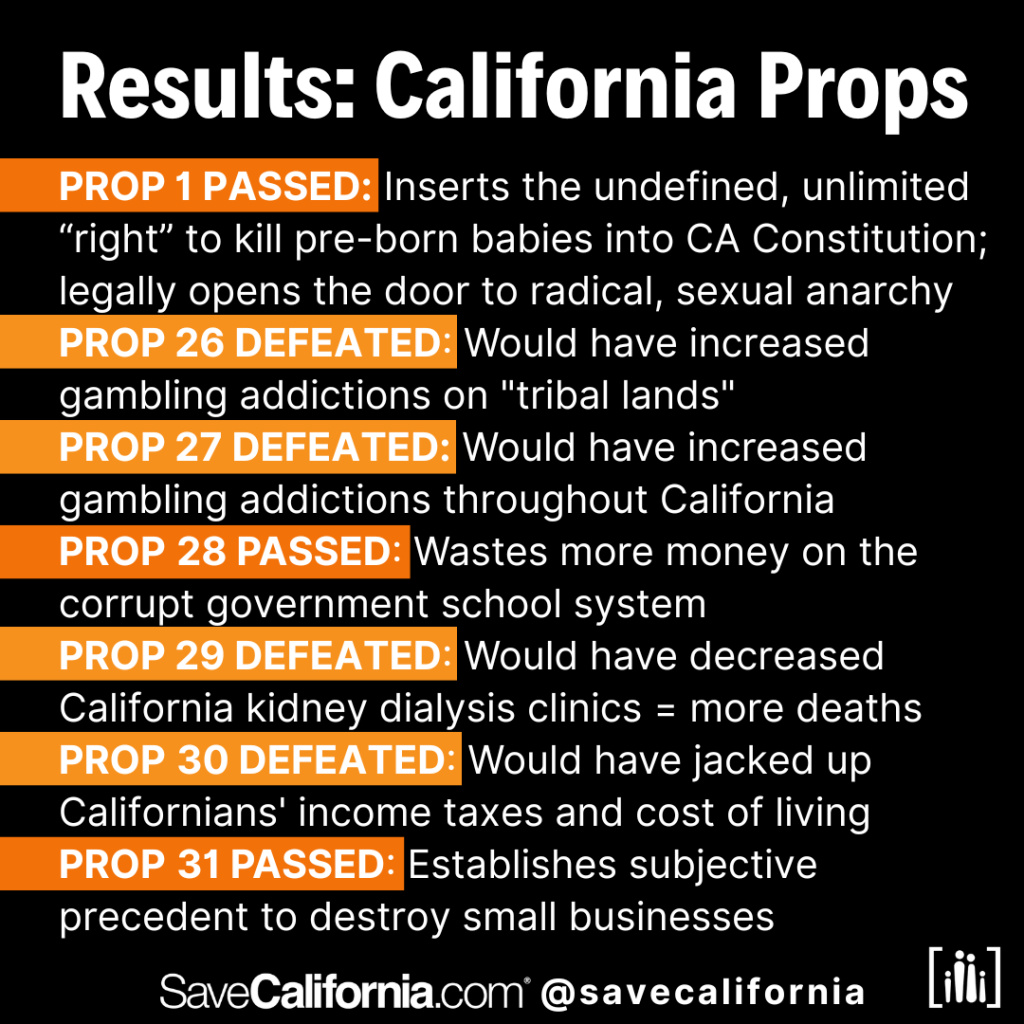 Thank you for voting right in God's sight — and helping others vote — in the November 2022 election with the help of SaveCalifornia.com.
Your good values were and are sorely needed, since so many Californians vote foolishly.
Still, more Latinos voted Republican this election. And more Californians might have voted Republican than the previous election, which will be confirmed if California Republicans pick up seats in the U.S. Congress and in the California Legislature (see the close races).

I'm relieved the two gambling-addictions-promoting propositions, 26 and 27, were rejected. I'm also happy that Prop. 29 functionally decreasing the availability of kidney dialysis clinics was stopped (for the third election in a row). And I'm glad Prop. 30 raising taxes and the cost of living "bit the dust."
Yet it's sad that 3 bad propositions passed (see their status):
1. Woefully-ignorant Californians don't understand a "fetus" is a unique human being with God-given rights. So they voted to approve the baby-killing and sexual-anarchy monstrosity of Prop. 1, 65.8% to 34.2%.
2. Neither do most voters realize government schools will use any excuse to take more tax dollars to dumb down and sexually indoctrinate children. So California voters approved Prop. 28's "art and music" perpetual "annual funding" deception, 62.5% to 37.5%.
3. Nor do Californians grasp how their Democrat state legislators don't love children, demonstrated by their pushing a host of dangerous "recreational" drugs on California. And they hypocritically singled out "candy-flavored tobacco" businesses for extinction (which can only sell to adults 21 and older) because of the Democrat legislators' disdain for tobacco farmers, who tend to donate to Republican candidates. So voters approved Prop. 31, which sets a precedent for Democrat politicians to destroy any small business they consider a threat to their power, 62.8% to 37.2%.
Obviously, voter approval of Prop. 1 is just awful. But the seven statewide propositions were a mixed bag, since online gambling in every home (Prop. 27) and the functional elimination of many kidney dialysis clinics (Prop. 29) would have been awful too. And both Prop. 27 and 29 were defeated, which are true moral victories.
In the big picture, true Christians must remember that success is doing what's right in God's sight, no matter the opposition or outcome. So if you voted biblically, you were an individual success!
Advice for the 2024 election: Concerned citizens must prioritize trying to win back the offices of county registrars of voters. Election fraud by the Democrat tyrants' minions must end!
A democracy cannot exist as a permanent form of government. It can only exist until the voters discover that they can vote themselves largesse from the public treasury. From that moment on, the majority always votes for the candidates promising the most benefits from the public treasury with the result that a democracy always collapses over loose fiscal policy, always followed by a dictatorship. The average age of the world's greatest civilizations has been 200 years. These nations have progressed through this sequence: From bondage to spiritual faith; From spiritual faith to great courage; From courage to liberty; From liberty to abundance; From abundance to selfishness; From selfishness to apathy; From apathy to dependence; From dependence back into bondage.
Attributed to Scottish lawyer/writer/professor/historian Alexander Fraser Tytler (1747-1813)